Free Early Education Policy
How we offer the 15 hours universal funding for all 3 and 4 year olds
In line with the Kent early years' provider agreement and strategy requirements, we currently offer three complete free spaces on a first come first served basis, which will be determined by us when these have been filled you will be able to claim your 15- hour free early education in a number of ways but will attract conditional charges to cover additional hour and costs not included in the funding.
A limited number of term time only places offering 15 hours over 38 weeks are available the remainder of places made up of 12 hours over 48 weeks.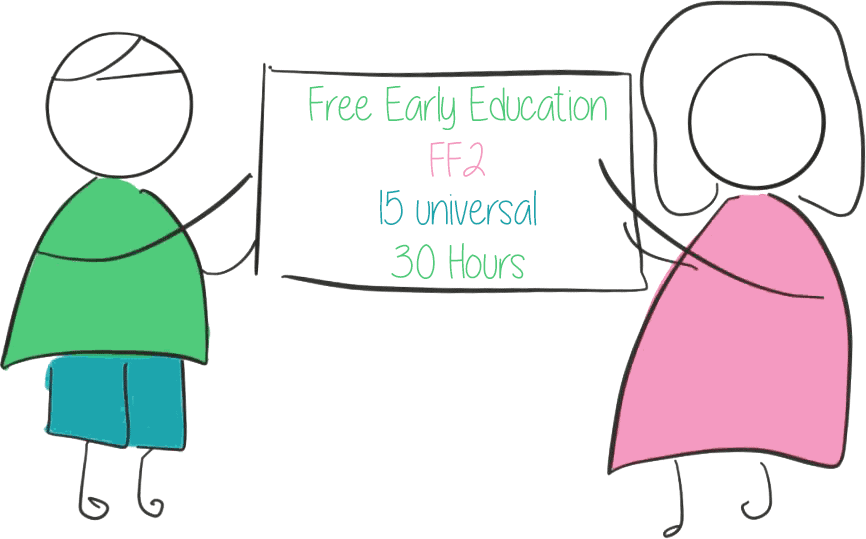 We offer the universal hours in the pattern below
Sessions are as follows:
Morning session 8am-1pm
(4 Hours Free Funding 1 chargeable hour + lunch)
Afternoon session 1pm-6pm
(4 hours Free Funding 1 chargeable hour + tea)
All Day session 8am - 6pm
(8 hours free funding + 2 hours chargeable + lunch/tea)
The three completely free session are currently offered:
8am- 12 noon or 2-6pm
How we offer 30 hours (extended) Funding for eligible 3 and 4 year olds
In line with the Kent Early Years Provider Agreement and Strategy requirements we currently offer one standalone (free) 30-hour space on a first come first served and is only on a stretched basis (23 over
50 weeks).
Extended hours are offered in the same patterns as universal.
How we offer the free for two (FF2 Scheme) eligible two year olds
All Free for two places are completely free and do not attach conditional charges but our offer of hours are determined by us.
An additional monthly charge is requested to cover the following:
Day trips
Snacks
Sun cream
Online learning journey
Sign n Rhyme
Music and movement
End of year and party entertainment
Other consumables