How we work in partnership with parents
All staff at Dan Dans understand the values of parent partnership. And working together is in the best interest of all children, all parents are valued and given honest daily feedback regarding their child.
We are dedicated to forming strong relationships with our parents and carers. We have regular termly meetings to discuss each child learning and development and together we discuss your child's next steps, we also communicate effectively via the Dan Dans app, this records all your child's daily routine and is shared instantly with all parents.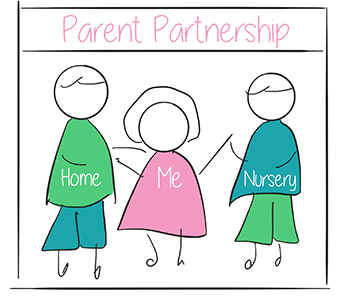 We are passionate about supporting the whole family, not just the children in our care we believe that each family member has a significant role in their child's life.
We have an open-door policy which allows parents to freely come and talk to us when they feel it is necessary. We support with outside agency involvement and link with other nursery and school providers as well as health care professionals.
We would be very grateful, if your child is going to be absent on a day that your child attends, that you please inform us by telephone or email.
For annual holidays please can you download and complete a holiday request form.
Following our safeguarding policy for keeping children safe, we monitor children's attendance and absences, if your child is absent form nursery we must be notified.